mohammed fawzy ... last artisan of Hasser
From one of the streets of Abadiya area in the village of Damanhour, Part of Behera governorate, Artisan Mohamed Fawzi brings us a piece of Egyptian hand mats, which we see in it the essence of his art and creativity, a painting panel decorates a wall and testifies on the craftsmanship and beauty of Egyptian hand mats. Unfortunately, the Egyptian hand mats industry has suffered for nearly 30 years due to the lack of manpower and the shortage of raw materials that the farmers stopped planting. Sometimes they even raze them from the banks of the Nile dune as a poisonous plant such as the Nile flower, but Fawzi tries to collect it from the banks of the Nile and also trying to grow it to provide a source of raw material to use in his craft.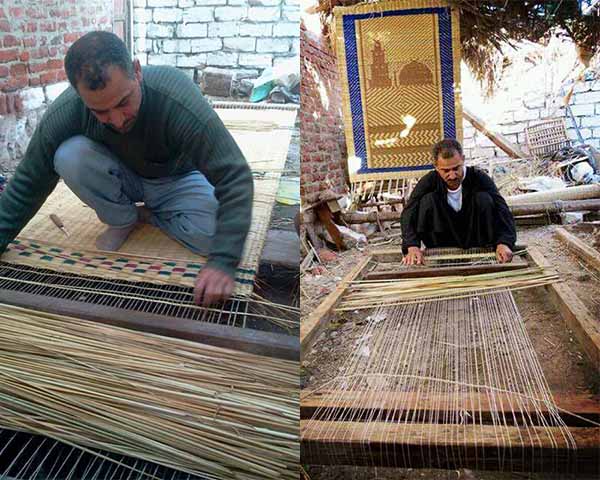 Mohammed Fawzi, one of the sons of the village of Damanhour Beheira Governorate, lives in a simple house in Abadiya area, He uses part of his house as a workshop for making his creative handmade mats, learning from his father on its origins, learn their tactics and secrets until he became an expert in the use of loom weaving mats, but also managed to develop in the workmanship by entering wool yarn for drawing tableaus on mats, which gave extra value to the mat and make it used as a piece of art as pallets to decorate the wall instead of producing a large piece of mats to be used on the ground in homes, Fawzi was able to develop handloom and manufacture other looms smaller to produce a set of mats used as a decorative painting, we believe that he produced forms of Egyptian heritage like the traditional farmwoman and abstract pharaonic characters and some of the verses of the Koran.
Fawzi works on the piece of mats for a period of one week to 25 days depending on the size of the mat he produces, sitting squatting in front of the loom next to the raw material of "Samar Alneel" and wool strands, always works with passion and expert speed who got used to this sitting in front of the loom to produce this piece of art, Fawzi works to provide income to his family on a daily basis because of the difficult requirements of life, and go each period to Cairo to display his paintings and sell them in many exhibitions, Fawzi says that one of the best exhibitions he participated in was the International Exhibition of Handicrafts, which was held in November 2016 in Nasr city, he wishes to see more exhibitions like that, which greatly help in spreading awareness of the practice of hand mats and makes people get back to use them instead of the use of industrial mats of plastic, which is imported from China, where Fawzi says that this type of mats is not good at all and does not last for more than 6 months until It breaks and loses its function, compared to the hand-made mats of "Samar Alneel", which can last for many years and can be cleaned with cloth and soap. He hopes that he will be able to devote his time to make mats through government support development programs, which he confirms its non-availability to help craftsmen. These programs will greatly help in the development of these industries and will allow these skilled craftsmen to create more in the craft and convey their expertise to new generations. And the work continues to exist without facing the difficulties of labor or raw materials.
Fawzi dreams of producing the pages of the Koran on the mats, a dream that hopes to achieve a large part of it or teach someone else who can achieve this whole dream. Fawzi was able to work four pages of the Koran, including the beginning of the book and some short verses, he says that such a product works to enrich the value of mats, linking this work with the Koran is a great value and honor puts this work in the place it deserves, Its history between the Egyptian handmade industries dates back to many years when the mats were one of the basics of the ancient Egyptian house.